Other Pleasants Community Foundation Funds
The Pleasants Community Foundation assists many organizations, groups and individuals in setting up and managing funds for their interests. We help Pleasants County, WV, organizations, athletic groups, and churches set up funds to help grow their income. We assist individuals who may want to set up a fund to assist a specific entity or need such as funding tourism, emergency services, and assisting the needy. Maintenance funds can also be set up for perpetual care and upkeep of local Pleasants County cemeteries. Funds fall into the following three categories:
Organizational Funds
Specialty Funds
Cemeteries
We would be happy to speak with you to discuss your needs. Please don't hesitate to give us a call at (304) 684-3082.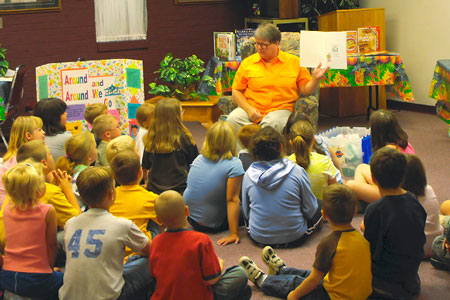 Organizational Funds

Boys and Girls Club of Pleasants County
The fund was established in 2003 to help generate income for the club's programs. The organization provides many opportunities for area children including homework help, mentoring, leadership, sports and life skills, and a Pack a Snack program that provides needy children with a backpack of food each Friday.

Pleasants County 4-H Foundation Fund
Established in 2014, this fund provides income for local 4-H activities such as the annual 4-H camp held each July.

Pleasants County Habitat for Humanity
Established in 2002, the fund supports the Habitat for Humanity vision of a world where everyone has a decent place to live.

Pleasants County Humane Society
Established to support the mission of our humane society to provide care, compassion, hope and second chances to homeless and abused animals in the community.

Pleasants County Public Library
This fund was established in 2001 to support the activities of our local library.
Ralph and Ida Mae Jones Memorial SMHS Band Fund
The Jones family lived in St. Marys during the 1940s when Ralph was a consultant at Quaker State. Their son, Lewis, never forgot our small town, referring to it as "paradise," and established this fund supporting the SMHS band in memory of his parents.

St. Marys Community Band Fund
Our community band is comprised of musicians ranging in age from high school students to folks in their 80s. When it was established, it held one concert per year. It now hosts nine to ten each year. The fund was established to support band.

St. Marys High School Alumni Association
The fund supports the work of the SMHS Alumni Association which includes an annual three-day Alumni Weekend on Memorial Day weekend.

St. Marys High School Athletic Boosters
Established in 2006, the fund supports all of the athletic activities at SMHS.

St. Marys United Methodist Church Endowment
The fund was established in 2009 to support the maintenance and upkeep of its buildings and grounds.
Specialty Funds

David Pitts Endowment for St. Marys High School
David Pitts is a 1957 graduate of SMHS who went on to establish Pitts Management Associates, Inc., a health care consulting firm. The Pitts Endowment is also known as the Needy Student Fund. An example of the funding provided would be graduation expenses for a needy student.

Don Wilson Memorial Development Fund
This fund was established in 2009 to support the mission and economic and community development objectives of the Pleasants County Development Authority.

Doug and Edie Taylor Emergency Services Fund
One of our earliest funds, it was established to address the needs of organizations providing emergency services in Pleasants County.

Dr. J. Riley and Mabel McCollum Memorial Fund
This is one of our newest funds which was established by David Pitts, grandson of Dr. and Mrs. McCollum, to provide funds to organizations in Pleasants County whose mission is to help the needy in our area.

Heart of Pleasants Fund
This is the grant-making fund for Pleasants Community Foundation and provides several annual grants to organizations in the county.

R. Julian & Margaret A. Stanley Charitable Trust
Created in memory of long-time St. Marys businessman, Julian Stanley, and his wife, Margaret. This community impact fund provides charitable giving for organizations in Pleasants County and around the world.

Major Medical Fund
Established in 2005 to provide funding to organizations that help local citizens who have a medical or emergency need of a catastrophic nature such as organ transplants, major surgeries, and loss of homes due to fire or water.

Pleasants Community Foundation General Fund
This fund was established in 2009 to provide for Foundation administrative costs. The fund is supported by donations and a quarterly fee of one-quarter percent charged to each fund managed by the Foundation.

St. Marys High School Foundation
This fund was established in 2001 by Tom and Jane Young for the purpose of improving facility infrastructure and supporting curriculum and extra-curricular needs of SMHS.

Sister Memorial K-9 Fund
Established in 2007 by Lynn and Judy Phair to honor their beloved dog "Sister," the purpose of the fund is to support efforts to provide service dogs to residents of Pleasants County.
The Lydia Fund
This fund, created in memory of Lydia McGoldrick, supports the efforts of the Pleasants Area Chamber of Commerce to promote, sustain, and expand small, locally-owned businesses in Pleasants County.
Cemetery Funds

Pleasants County Cemeteries
The Pleasants Community Foundation maintains funds for perpetual care and upkeep of the following cemeteries in Pleasants County:
Beech Run Cemetery
IOOF Cemetery
Maple Lane Cemetery
Pleasants Memorial Estates
Point Lookout Cemetery
Zoar Cemetery