Meet The People Behind The Foundation
Staff
As Director of the Pleasants Community Foundation, Mary Moody is available at our offices at 309 Second Street, St. Marys, WV to assist with any questions you may have about our scholarship, grants and funds. Our offices are open Monday - Friday from 8:00am - 12:00noon.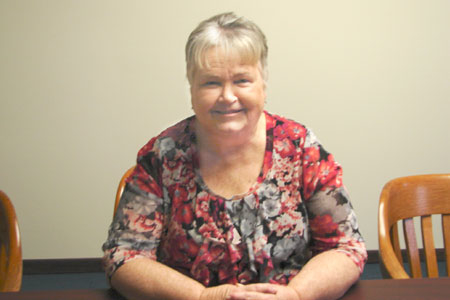 Board of Directors
Seated: Jennifer Hupp, April Meeks, Rebecca Ingram, and Dianna Lewis
Standing: Lynn Phair, Carl Guthrie, Frank Ennis, and Gary Loughner
Not pictured: Richard Heller
Carl Guthrie, President: Carl Resides in Belmont with his wife Ricki. He is the current Executive Director of the Pleasants County Development Authority and was previously employed in banking for over 39 years with 25 years as President and CEO of a national bank. He serves on many local community boards.
Rebecca Ingram, Vice President: Becky served as President of the Pleasants Community Foundation from its inception in 2000 until 2016. She resides in St. Marys with her husband, Paul, and together they own and operate Ingram Funeral Home. She is a member of the board of directors of the Pleasants County Public Library and a member of the St. Marys Garden Club.
Lynn Phair, Secretary-Treasurer:
Gary Loughner. Gary resides in St. Marys with his wife, Liz. He is retired from First Energy/Allegheny Energy Corporation at the Pleasants/Willow Island power station. His community service include Boy Scouts of America Troop 225, Kairos Prison Ministry at St. Marys Correctional Center, SMHS FFA, and Pleasants County Habitat for Humanity. He is a member of Crossroads United Methodist Church
Jennifer Hupp. Jennifer resides in Belmont with her husband Rick. She is the current Chief School Business Official, Treasurer of Pleasants County Schools. She is past President of the West Virginia Association of School Business Officials. She is passionate and dedicated to the community and the students of Pleasants County and the St. Marys United Methodist Church.
April Meeks: April resides in Belmont with her husband Howard. She is currently employed by the Pleasants County Magistrate Court. April is dedicated to education and improving our community. She has served on the local School Improvement Council, SMHS Athletic Boosters, and the Pleasants Area Chamber of Commerce.
Frank Ennis: Frank is a native of Wheeling, WV, and attended West Liberty State College. He and his wife, Melissa, moved to St. Marys in 1990 with their two children, Kayla and Thad. He began working at Pleasants County Insurance Agency and that business is now solely owned by Frank and his wife.
Richard Heller:
Dianna Lewis: Dianna is the current WVU Extension Agent serving Pleasants County where her focus is on youth development and family and health programming. Her community involvement includes membership in the Pleasants County Agricultural Youth Fair Board, Pleasants County Committee on Family Issues, and St. Marys United Methodist Church. She lives in St. Marys with her husband, Todd.